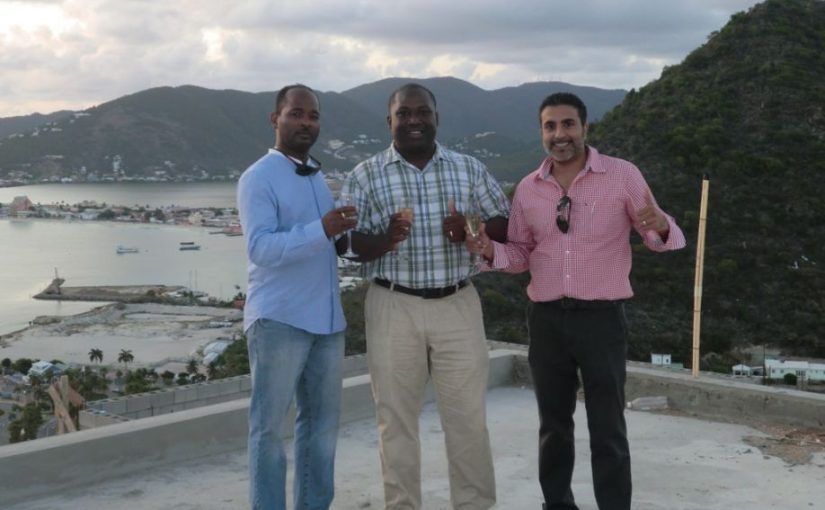 NEW CONSTRUCTION IN MONTE VISTA NEARING COMPLETION
POINT BLANCHE – On Friday June 10, a handful of local real estate agents gathered at Monte Vista to get a preview of one of the islands newest developments, "Windgate Residences."
The project is being built by Carbon Acquisition Group and serves as another positive indicator that the local real estate market is making a recovery.
Managing Director, Mr. Dwain Carbon had a celebration toast with some of the realtors and his construction crew as he announced that the structure of "Windgate Residences @ Monte Vista," is nearing completion.
"It was exactly one year to the date that we officially broke ground, and in a few weeks we will have our sales model ready. The project is already 50% sold and we have yet to officially start our Sales & Marketing campaigns. To date we have experienced all of our success almost entirely by word of mouth!"
The project is being marketed for sale exclusively via Island Real Estate Team, co-listing agent Anthony Temmer added, "I would like to congratulate Mr. Carbon and his team for the progress they have made thus far and we look forward to assisting the future owners of these lovely condos."
Windgate Residences is a modern condo building of 10 apartments located inside the gated hill top community of Monte Vista. All units have magnificent ocean views overlooking Great Bay Harbor / Philipsburg, a few also include views to St. Barths! Some of the amenities at the project will include; common infinity pool, back up generator, and tennis court.
"I get a special feeling when I walk the grounds of this project, we sold the land to Mr. Carbon over a year ago, it's been a wonderful experience to watch his vision and dream become a reality, it looks even better then the renderings." said Arun Jagtiani of Island Real Estate Team.
The project is being financed by Scotia Bank, and they will be offering special finance packages for interested buyers. An official "Open House," for the general public to come and see this new development is expected within the next few weeks.
Source: http://www.soualiganewsday.com/local/soualiga-newsday-top-stories/item/8635-new-construction-in-monte-vista-nearing-completion.html